Colorado boasts of 53 14ers and 637 13ers. As a Colorado resident, I have been wanting to climb a 14er for a very long time. Finally my dream came true this August, when we climbed the 38th highest peak in Colorado – Mt Bierstadt. So why "Mission I'm-Possible"? Well if it was not obvious, I saw the latest movie from the series, "Mission Impossible: Rogue Nation" just the night before we started the hike. Also, I am very much a below average hiker who is not in her best shape or fitness level. But thanks to my super active husband's enthusiasm, motivation and support, I decided to undertake the mission.
"Every mountain top is within reach if you keep on climbing."
– Barry Finlay
Mission Target and Time
Since this was our first 14er we wanted to select a peak which is good for beginners and is easily accessible from Denver. Our options were – Mt. Bierstadt, Grays Peak and Torreys Peak. We finalized on Mt. Bierstadt for this trip.
Next we had to decide on when the mission was to be executed. August is generally the best month for mountain climbing, as all the snow has melted and weather is favorable too. But weather on the mountains changes in a blink. You need to account for rains and wind out there. It is also a good idea to start early before the dawn. This not only helps you beat the traffic (if you go on a popular trail), but it also helps you avoid any possible thunder storms post midday. I personally prefer Saturdays for any outdoor activity as it gives a day to rest on Sunday, before you start work on Mondays. So our mission start time – 8th August 2015 5:30 AM.
Team Mission I'm-Possible 14er
For me weekends mean time with family and friends. The Easy 14ers are perfect for family hiking, but my little one is too little for hiking, and lucky enough I had my mom here to babysit Akira. That means no extra baggage for Vinay 😛 So it was just us and friends who could undertake the mission. The agents who chose the mission were:
It was the first 14er for all of us but we did have different fitness levels. Vinay and Sekhar could really complete the whole hike in 1/2 or 1/3rd of the duration in which we were able to manage. But it was fun doing it together 🙂
Gadgets for the Mission
Ok, Vinay is Ethan Hunt and Benji Dunn combined in one! He not only loves all the outdoor adventure activities, he likes to pack and plan too (sometimes a bit too much). So here is what our gadgets aka hiking equipment looked like: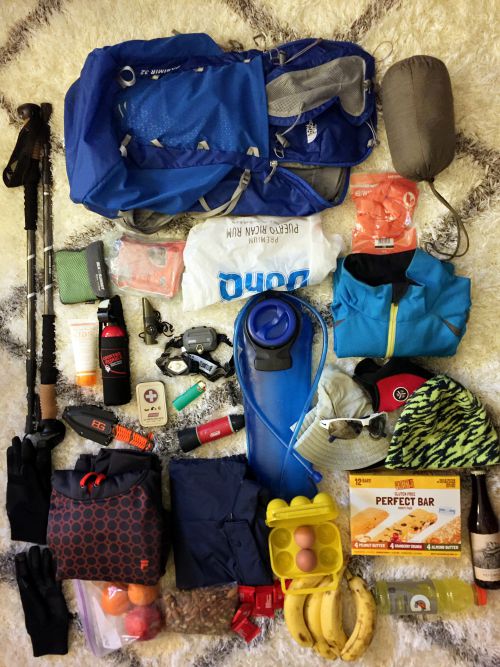 Hiking Shoes – Trust me, you need good, sturdy, and preferably high ankle, hiking shoes! Don't try new shoes which you have not broken into. Kishore had to suffer just because of that. Buy something you will be comfortable in for the whole day over rocks, dirt, pebbles, water etc.
Hiking Clothes – Mountains always have this infamous reputation for changing weather. So always dress in layers. I will not suggest just shorts for the whole hike. It is always a good idea to pack full length clothes as well. Not only do they protect you from the sun, scrapes and bruises on that height, but also help you with the cold blasts atop the peak.
Jackets – Do take a warm jacket, as it always gets windy and cold on top of the mountain. A wind-breaker jacket can also help as a lighter version.
Rain Coat – It almost always rains during the second half of the day in the mountains, so it is a good idea to pack raincoats. We were lucky that we did not get any rain showers on the day of hike.
Hiking Daypack – You need a good hiking daypack to carry all needful items for the hike. It is worth investing in a good pack that can last you many summers and winters. Vinay has promised he will write a post on how to select one. So stay tuned for that!
Hydration Pack – To tell you the fact, I hate them. The taste of water is awful. I know, I need to wash it multiple times to get that taste out, but I still cannot get over it. So if you too do not like them, then the next 2 items are for you.
Water Bottles – Of course filled with water (just me being silly :D)
Energy Drinks – Gatorade or similar that can refill your electrolyte levels for the day
Snack Bars
Fruits and Nuts
Sandwiches or Mini Meals
Sunscreen – At mile-high+, the sun is always so scorching. So do put on a SPF 30+ sunscreen to protect your skin.
Walkie talkies (optional)
Headlamp Flashlights (optional) – If you plan to start early in the dark before dawn to finish the hike before midday, you will need these night lights.
Message Board (optional) – How about taking a picture saying "We did it!" or any other custom message on top of the peak? Don't forget about the free Which Wich Sandwich!
Journey to the top of my first Colorado 14er
2:00 AM – This is the time we set our alarms to wake up! Vinay just could not sleep with all the excitement and got up to do the final arrangements. I did some lazing around and got up around 2:30 AM. After all I came back home at 11 PM after watching MI: Rogue Nation. We were ready and left the home by 3 AM to meet at a common destination with our accomplices.
3:30 AM – Finally all 5 of us were ready to start the journey to the trail head of our Mt. Bierstadt ascent route. Mt. Bierstadt is popular among beginner and intermediate hikers, not just because it's so close to Denver, but it's also one of the easier and more accessible of Colorado's fourteen thousand foot peaks. It can become quite crowded over the weekends, so we decided to leave early to avoid parking space issues.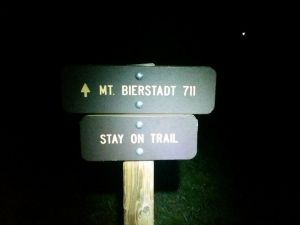 5:00 AM – We reached the Guanella Pass trailhead. This was a good point to use the restroom, as there would be none after that, unless one is open for nature's call :D. We checked our bags and did some final arrangements.
5:30 AM – We wore our jackets and headlamps and headed out on the trail into the valley towards the base of Mt. Bierstadt.
The first mile of the trail weaves through willow thickets, mostly over dirt path and some boardwalks over the marshy areas. This part of the trail gave me hope that the hike is possible, but a false hope too that I can do it in the average time. 😀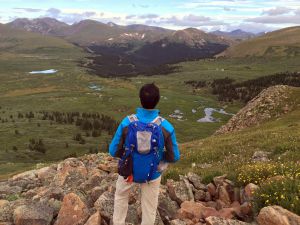 After first half of the mile, we crossed the Scott Gomer Creek. Another 1/2 mile and we had crossed the willows giving way to a breathtaking scenery below. If you are not ambitious enough to climb the entire fourteener, a roundtrip from trailhead to this point is worth doing.
7:00 AM – The path ascends gradually through tundra vegetation and a variety of alpine wildflowers. This is where we saw the sun breaking in on the Sawtooth ridge connecting Mt. Bierstadt and Mt Evans.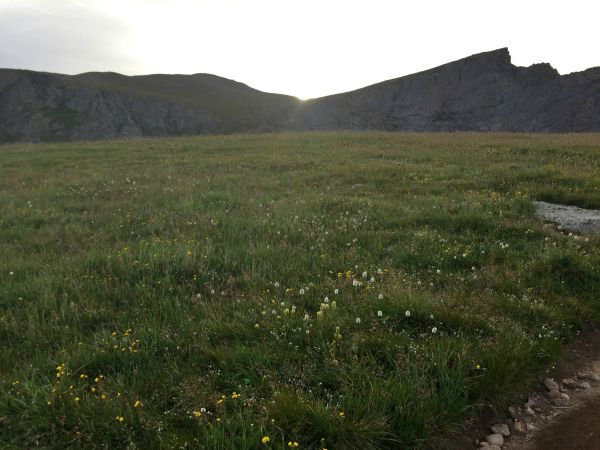 7:53 AM – We started on the steepest part of the trail where terrain on the slope is a bit more rugged and covered with boulders. This is where Vinay and Sekhar impulsively parted ways with us, in the hope that they can cross over Sawtooth ridge to reach Mt. Evans, another fourteener (a combo hike they had not planned for!).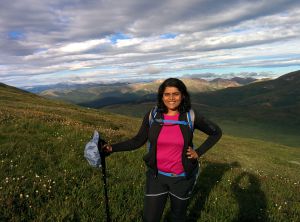 Meanwhile me and Akshatha started inching towards the summit. An unseasoned hiker like me stopped at every 20 steps in this part of the trail. When we reached rocky areas near the top, it felt like the peak was nearby but it kept alluding us.
9:30 AM – Finally we were able to see the peak which is made up of all rock. In the final pitch, the trail is loosely defined and we had to make our own way to the top through the boulders.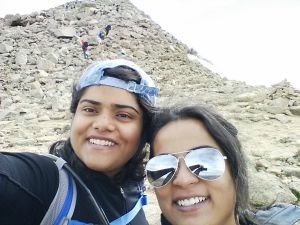 Of course in this part, the wind started getting crazy and I was singing in my head "I can't feel my face when I am with you, but I love it". I could do a face-off with Tom Cruise at this point 😉 .
Halfway up the final ascent, Vinay and Sekhar spotted us from the top and encouraged us to give that final push. (They were stationed on the summit 1.5 hrs before us!). I was so glad to see Vinay and that he decided to stay at the summit of Mt Bierstadt.
10:15 AM – Finally all of us were at the summit of Mt. Bierstadt @ 14,060 ft together! After a long & tiring hike up, the breathtaking view over the top of the majestic 14er felt so surreal. To capture this special moment, we decided to bring in a chalkboard to write our custom message (thanks to my friend Lindsay's advice). While Vinay was waiting for us at the top, he got creative in writing the message over the chalkboard.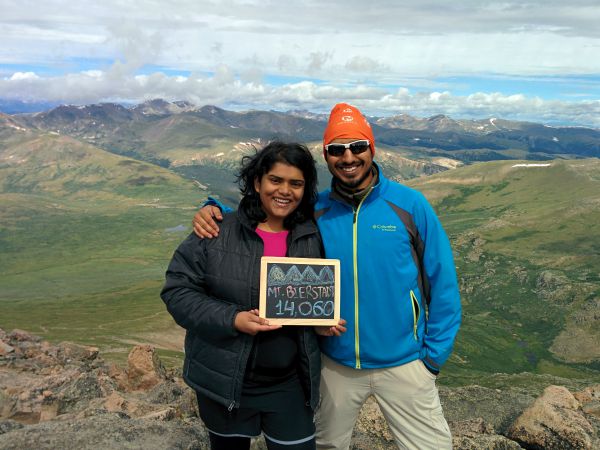 We took a good 1/2 hr break at the summit, imbibing all the fresh air and scenery around us and of course the tasty sandwiches we packed.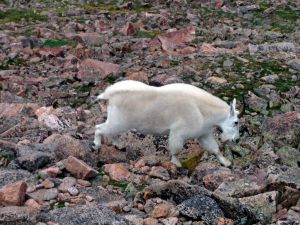 10:50 AM – Now it was time to start the descent. Descending down the rocks was fun as we hopped down our way. At the end of the rocky terrain, we saw a beautiful white mountain goat hopping up on the slopes.
11:30 AM – Once the rocky terrain got over, we reached the steepest part of the slope. I did not realize how tired and heavy my legs felt. Hiking down this slippery (uhh… the pebbles!) and a bit uneven part of the trail was taxing on my weaker knee joints. But I was inching down clicking pictures and taking small breaks in between.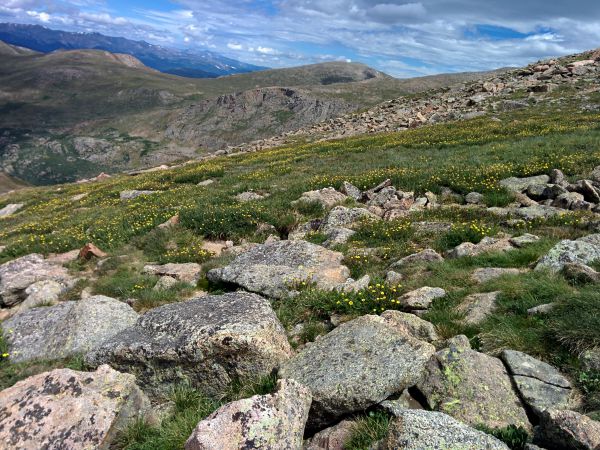 12:15 PM – Once the steep part was over, we entered the milder switchbacks zone of the trail. This part was much more enjoyable with all the beautiful wildflowers around.
1:15 PM – Finally we entered the last mile or the willow zone. This is where we decided to take our lunch break.
1:45 PM – After lunch we felt refreshed to start. The slope here was much easier and we could pick up some pace. But by this time I was too tired and my joints were hurting, so I kept myself to a slow walk. It seemed like the parking was so close, but the trail just kept going on & on. The pretty sight of Scott Gomer Creek and the captivating lake on our way back, motivated us to push forward and reach our starting point.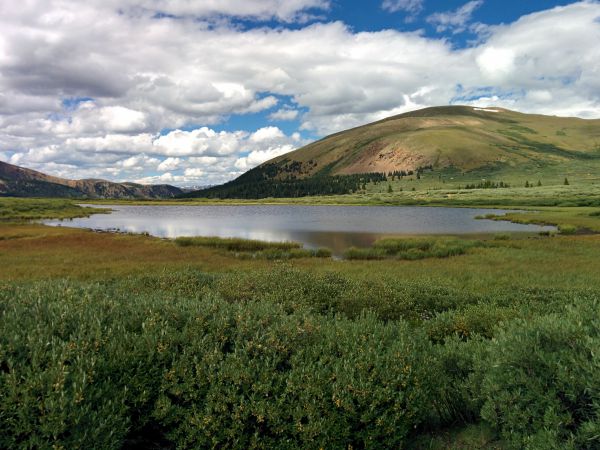 3:00 PM – Finally we arrived at the trailhead parking.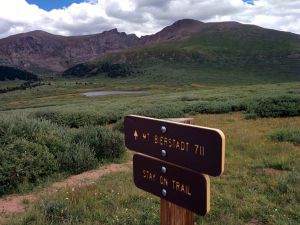 Such an elated feeling, but it was super exhausting as well. So after using the restrooms and getting some refreshments from our car, we started the drive back for Denver.
It feels like such a great achievement to complete my first fourteener. Even though I took 4.5 hrs to climb up and 4 hrs to get down the summit (much more than an average hiker!), it has motivated me enough to climb another one of the Colorado's 53 fourteeners and beyond! Hopefully in the next mission I can climb up in 3.5 hrs 🙂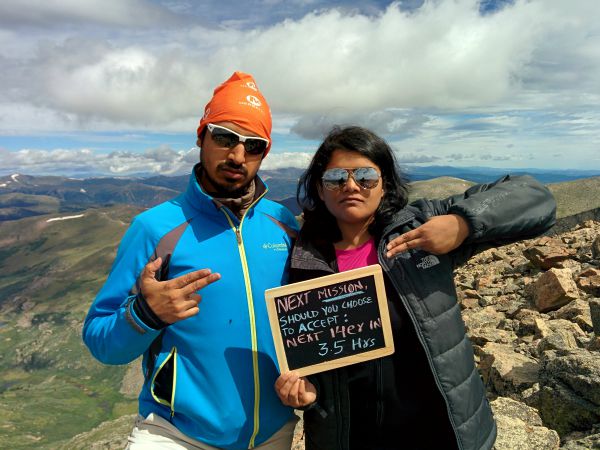 Are you planning to climb your first 14er too?