Yes you can wear shorts in cold weather too! Specially with the mild weather we have been having lately, you can totally rock this look with just few right outfit pieces and rules. I actually love wearing shorts during the fall as you might have seen in my last year's post. For this look though I decided to add a little sparkle and quirkiness (as promised…) for the holidays with this sequin sweatshirt. Even the heels of my boots are metallic and shiny. 😉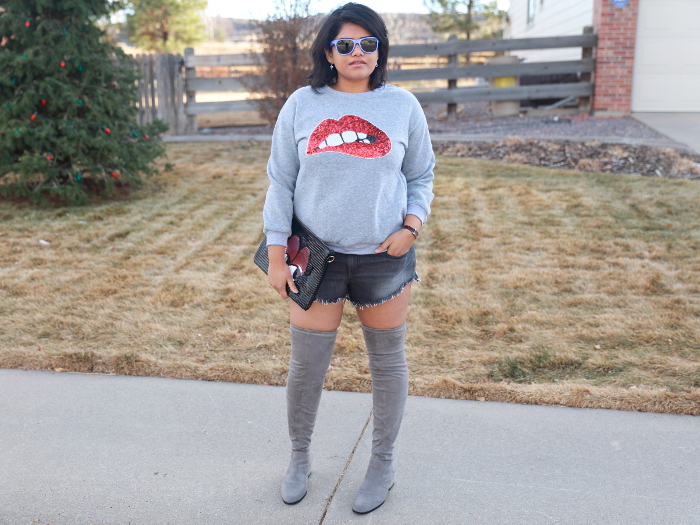 I chose the color grey as it goes well with the weather. My cozy sweatshirt and distressed shorts with over the knee boots were just perfect for the weekend look. During the shoot the temperature was nice around 60, so I was ok wearing it, but if you want you can pair it with tights or layer it with a coat for cooler weather.


What you need to wear shorts in cold weather
Over the knee or tall boots – It's too cold to bare the legs but show them off by wearing some sexy tall boots like a fitted sock over the knee boots!

Cozy sweaters and sweathirts – Pair the shorts with a cozy sweater or weatshirt to stay cozy and warm.

Leggings or tights – To give that extra warmth wear the shorts over a pair of leggings or tights.
Select the right shorts – It is certainly not the season to be wearing linen, so opt for thicker fabric like tweed, leather or denim. You can opt for shorts with longer length too, to give the extra coverage.
Layer it – Wear it with a long coat or a jacket to stay toasty
Accessories – Let us not forget the accessories! A cozy scarf around the neck or a quirky bag to add to your fun look. I mean how cool is clutch. It has the Blonde Salad vibe to it 😀


So what do you think about wearing shorts in cold weather? How would you wear it?
Outfit Details