Nowadays, you see pumpkin patches and other Halloween decorations as soon as you enter any store. All the fall festivities around made me want to do some of my own decorations. So I again turned to Pinterest for DIY Halloween decoration ideas and stumbled upon this blog from Vanessa @ Silly Eagle Books. This immediately struck a chord with me as I had lot of leftover bottles and caps from all the hydration drinks Vinay has been taking lately :). So I decided to do this project as it looked so much fun and it indeed is!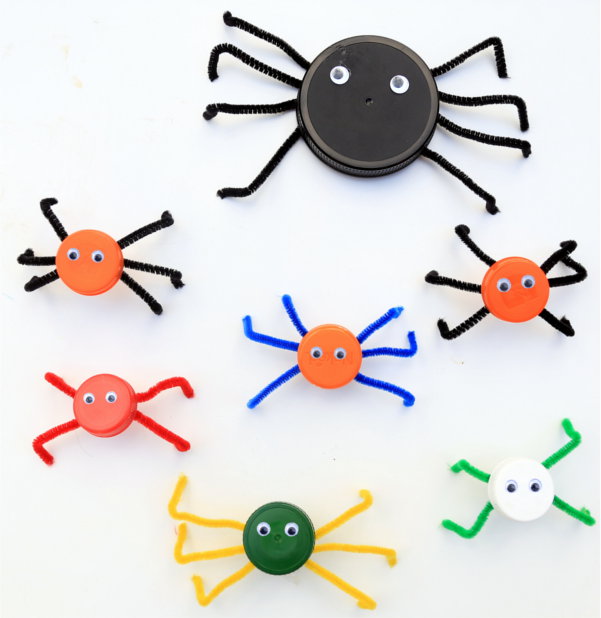 Supplies
Recycled Bottle Caps
Pipe Cleaners – from Dollar Store
Scotch Tape
Scissors or Wire Cutters
All-Purpose Glue
Googly Eyes
I already had all of the supplies with me except for the pipe cleaners which I bought from the Dollar Store.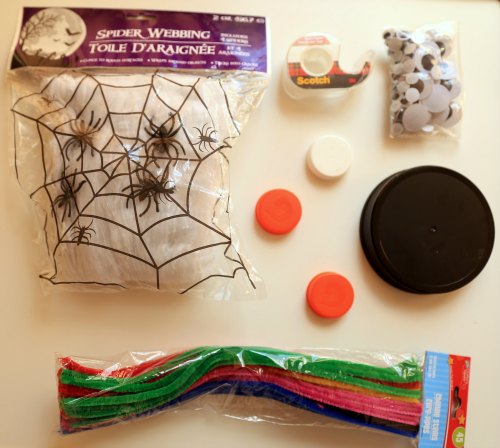 Steps to make the Bottle Cap Spiders
Cut the pipe cleaners to desired length using a pair of scissors, depending on how long you want the legs to be. I used one half of the pipe cleaners to make 2 opposite end-legs for the spider. For bigger caps, I used one-third the length of pipe cleaner.
After cutting all the pieces for the legs, I aligned them and then taped them all together in the center after pinching them and laying them around 30 degrees apart. You can also cut them into separate pieces and then tape/glue them, but I just found it easier/faster this way. For the big bottle caps, I did cut the pipe cleaners into separate leg pieces to save on some of the pipe material.
Once I had all the legs pieces cut and taped together, I simply taped all of them to the back of the cap. You can also use a hot glue gun, but the tape just did fine for the job.
Now it was time to play around with the legs. Start bending the straight pipe cleaners at 90 degrees towards their end to give shape to the spider's legs.
Your spider is almost done. It just needs its eye! This is the part where kids will have fun gluing the googly eyes on the cap.
That's it! You have your itsy-bitsy spider with you now!
We made our own team of spiders with all the leftover bottle caps we had. It was mostly black and orange caps to go with the the fall theme, but we did get creative with other color combinations too. Vinay wanted to make one with Team Broncos color combo in Orange and Blue, and that is actually our favorite from the spider team. 😉
I placed them outside on the spider webbing I had purchased, but they never stay there, as Akira always brings them inside to play with 🙂
So which is your favorite spider in the team?