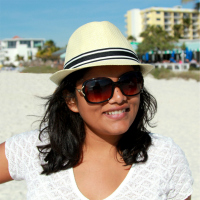 Hi! I am Richa, a software developer by the day, a mom to an adorable daughter, a wife to a loving husband, a foodie, a wanderer and a DIY enthusiast 24×7. I am always seeking and experimenting with new & inspiring ideas, especially with my looks and styling.
Here is some history about me to start with. I am a Bengali girl, born in Patna and brought up in Korba. Studies brought me to Indore, then work brought me to Chandigarh where I met Vinay for the first time. Then after a job relocation to Hyderabad and 3 years of long distance relationship, we finally tied the knot in 2010, which is when I moved to the Mile High city Denver. ( Yes! I have lived in 8 states and 2 countries. )
Well that was then and this is now – I have a darling daughter and our own home, I travel across countries and not just states, I have learnt cooking and guess, forever will. My love for fashion and movies remains the same though 🙂
Talking about my interests, as you can already make out, I love traveling. I think it started with our family's tradition for annual vacation trips and hope it continues forever. My love for style and fashion came from my mom, who would always stitch or shop on-trend clothes for us . I have to be honest though, I have never done much of art/crafts activities in my childhood, as I was more of a sports kid back then. But now maybe I want to make up for it, and love taking up small DIY projects.
I wanted to dedicate a complete section to my love for food. I love it so much, that I keep on changing cloth sizes for it. Mostly it's because my mom is a great and innovative cook.  But even then  I never really did any cooking until I got married ( Yeah I was spoilt in that respect! ). I was just happy trying her food and reviewing all the possible restaurants. Vinay was the one who actually got me started with cooking and other adventure activities like scuba diving, skiing etc. (Yes! He is my guinea pig 😉 ) But now I love to cook and play around with recipes.
I also love my software development job, so much that I decided to do the complete development of this WordPress site on my own. I had never done any web development, but had so much fun working on it. Hope you enjoy our site too!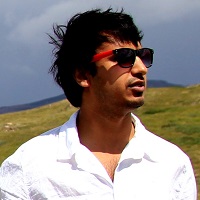 Hola! I am Vinay. I feel blessed to be helping our precious little blessing grow and find her way through this amazing world. This blog is our attempt to create footprints that she can emulate and follow in her life!
I was born in a small Himalayan village in India, but my love for the world has grown bigger and better  with my life experiences that have taken me all around the world. My mom taught me to cook when I was a child, and my love for cooking continues to grow with each passing day and each new cuisine I try.  My love of the vastness of oceans inspired me to become a certified Open Water Scuba diver, and I have already explored the depths and reefs of Indian ocean, Caribbean sea, Pacific ocean, Atlantic ocean and the Gulf of Mexico across Maldives, Bahamas, Hawaii, U.S. Virgin Islands, Puerto Rico, Cancun, and Florida keys. I am an ardent sports fan, and love Cricket, Basketball, Tennis, Volleyball, Golf, and my latest fad is American football.
Being a Himalayan mountain boy, the 'spirit' of mountains has always been an integral part of my being. And when I came to work in Colorado, I fell in love with its unrivaled mountainscape. It just felt like home away from home and we decided to not only work, but also to play and live here. I love hiking, backpacking, mountaineering and have recently mastered skiing in the pristine mountainscape of Colorado. My next aim is to excel at the art of mountaineering and would love to scale Mt. Kilimanjaro and Mt. Everest some day!
Being the nature enthusiast that I am,  a big part of my outdoor recreation goes into giving back for sustainability and preservation of the natural resources. I volunteer as a Crew Leader and as an Environment Stewardship educator with one of the leading statewide nonprofit organization to motivate, engage and enable people to become active stewards of Colorado's natural resources.
And so much of travelling and outdoor activities have made me fall in love with Photography – yes, I am an amateur photographer. And my favourite subject to capture in still images these days is my lovely daughter, Akira. Take note, I will be talking & interacting with you to a good degree using my photographs as visual interfaces in this blog 😉
Here is a picture of our little family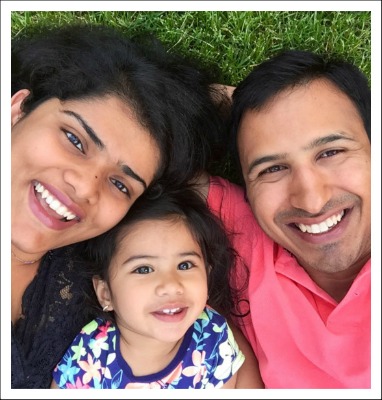 Why start the blog?
… Maybe it was the parenthood effect
… Maybe it was our new home
… Maybe the Facebook timeline was not enough to capture the life events
… Maybe it was Pinterest that got me excited about blogging (It's addictively awesome!)
… Maybe it was just an itch to write.
Whatever the reasons, I am really glad that we got started.
Why Fancier's World?
Did you know that Fancier is a synonym for an enthusiast. We were looking for names which would encompass all our varying interests – all the things we enjoy and like to explore. So finally here we are @ Fancier's World.
What does the logo mean?
We took our own sweet time to design and create this logo. It truly captures what the blog is all about – our own Green world (Go Green!). It is designed like a charms bracelet and things that mean a lot to us.