Here we go go go go, on an adventure!
This song from the famous and magical 'The Cat In The Hat' by Dr. Seuss surely captures what our life story has been for the last couple of months. With 'Thing One' in stride, we are soon expecting 'Thing Two'! We could not find a better way to do the pregnancy announcement and break the hiatus from blogging than these naughty and imaginative children characters. But if you haven't heard about them I highly recommend getting familiar with Seussville. Also, if you are looking to order these cute "We Match" tees for siblings then order here.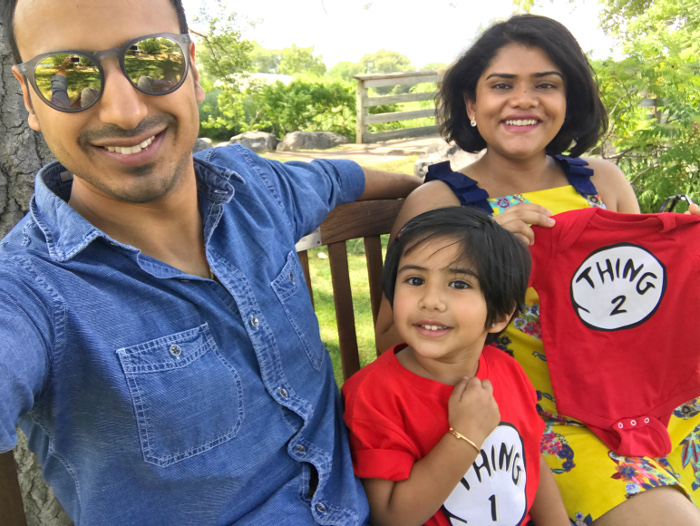 I don't know how many times I planned to write this post, but something or the other held me up – India trips for my brother's and brother-in-law's marriages, Vinay's MBA journey, work, and gestational diabetes, to name a few. Finally we were able to manage a photo shoot on a hot 90F day (and of course we forgot to get the camera…). We did manage to get some good pictures even with the scorching mid-day sun and Akira's quest for crocodiles near the lake. 😀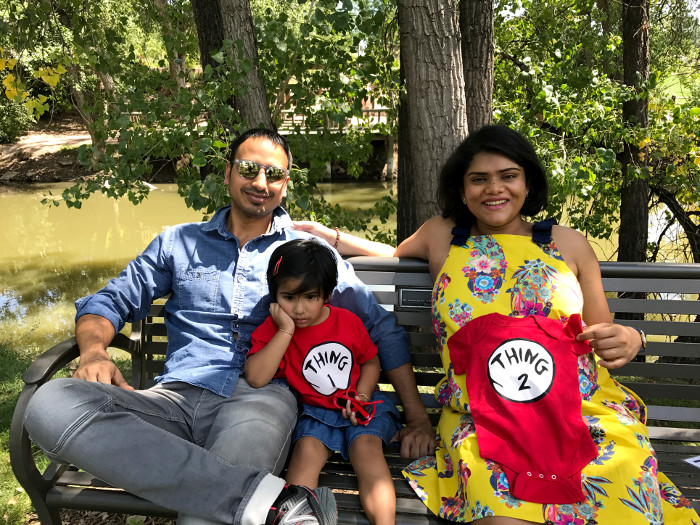 Things I have been upto:
Thing 1 is I am super excited to have a second baby girl (Yes! A baby girl!), but thing 2 is that having a second child seems so daunting right now. I know lot of people have 2 or more kids, but it always seems like a fun challenge 😉
Thing 1 is that I am super joyous for our second baby, but thing 2 is that I am super scared about Vinay being away.
Thing 1 is that I am so happy and proud for Vinay joining the prestigious MBA program, but thing 2 is that I am sad and overwhelmed that he has to go away for an year.
Thing 1 is that I am so excited to be pregnant again, but thing 2 is that I have never been so miserable with the gestational diabetes as this time.
Thing 1 is that I have so many things to talk about to you all, but thing 2 is that family, work and taking care of myself is an exhausting priority right now.
Now that you know what I have been upto, what is coming further? Well, my due date which is 2nd Oct! But this post will probably be just days before I get induced for labor.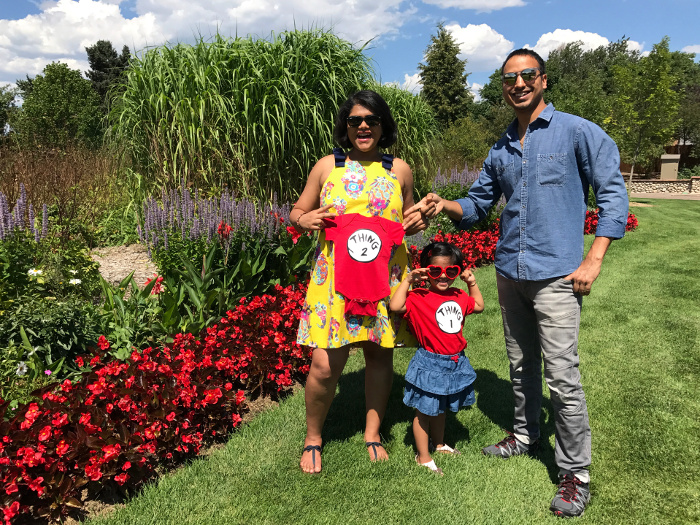 What is coming further on the blog? Though I will be going on maternity leave pretty soon, we plan to bring more interesting and fun content to you soon. Thank you all for the constant support & love and messages specially for arrival of fanciersworld's new member. We are all super excited to meet her soon!