Now that the weather feels more like winter, I like to bundle up and dress up in layers. A faux fur vest or jacker to me is a great investment for the cold weather as it makes you feel fuzzy & warm and adds an instant glam to any look. For this look I am wearing a shaggy faux fur vest with a printed drop waist dress for a boho look. I even wore a faux fur jacket last year in this post. But I do understand that not everyone seems to be comforable wearing it as it is trickier to style. So for this post I will be providing some tips on how to wear a faux fur vest for any body type.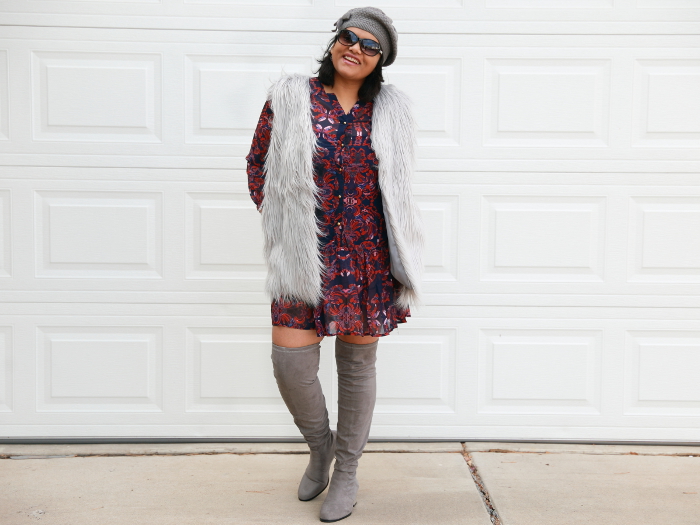 How to wear a faux fur vest for any body type
Speaking of the faux fur vest I find it difficult to find it in my size. So I was thrilled to find one which actually closes too. The shaggy vest that I am wearing for this look is a nice grey color instead of the usual brown ones! It is available in lot of other sizes too. I also found this amazing printed dress I could pair it with. The dress itself did not come with a lining and is really thin so I wore it with a slip dress underneath (which I have a lot from my FP purchases 😀 ). To style a similar look with faux fur vest for any body type use the tips mentioned below: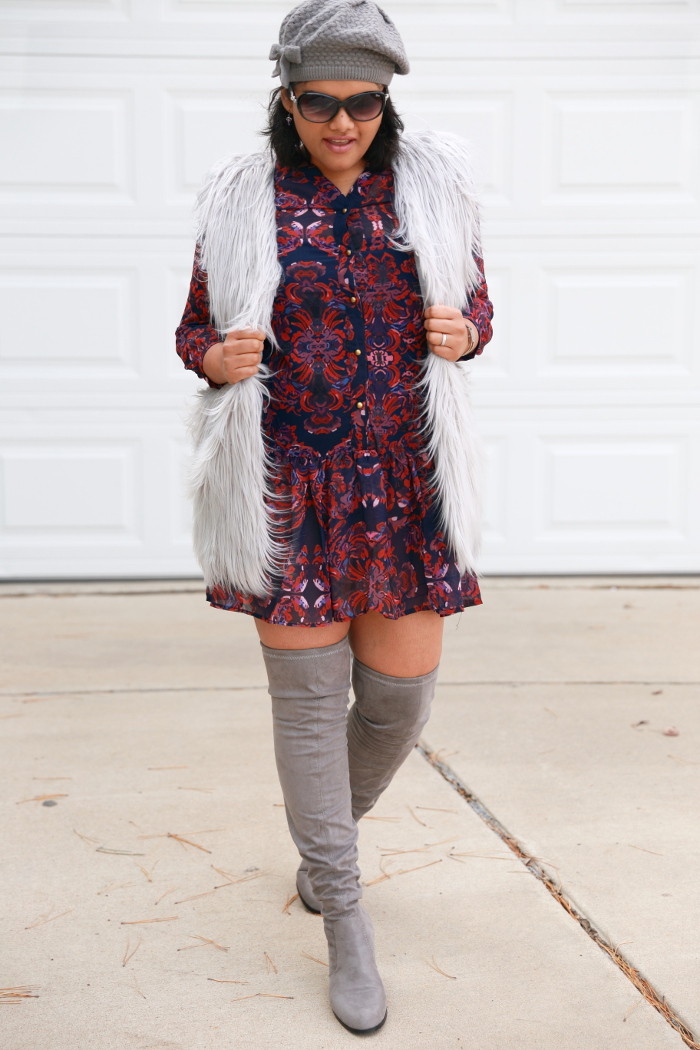 Length – Select the right length for your body shape. Hip length vests are flattering for most body types. For petites, try to avoid longer vests as you don't want to be swimming in the look. For pear shaped bodies, usually a longer vest which covers the hip area is more flattering.
Thickness – The faux fur vest already adds lot of bluk to the look. So void getting thick vests specially for the curvy body
Belted vs open look – For the petite or hourglass figure, wear a belt over the vest to give a defined waist. For top heavy women like me, keep the vest open and wear it like a cardigan to avoid the focus from the top.
Colors – Keep the rest of the look in a single solid color to highlight the vest, like black jeans and top. But you need not stick to the solids. You can wear print too for a boho look!
Textures – Try wearing faux fur vest with jeans or leather leggings to change your daily look.
Layering – Don't be shy to experiment with the vest. You can wear it even over maxi skirts, dress, chunky cardigan or leather jacket to add the instant glam. For curvy women I would avoid adding too many layers as it can make us look more bulky.
Lining – I like to get a faux fur vest or jacket with a lining as it does not cling to my body nd gives a more flattering look for a curvy body.

Fancy look – Wear it with over the knee or thigh high boots to give a fancy or glamorous look.
Office look – You can even wear them to office over a shirt and pencil skirt with heels to give a polished office look.
Boho look – Pair it with a printed dress for a bohemian vibe. Add a fedora or a cap to complete the look.
Accessories – Since the faux fur will already overpower most of the outfit pieces, it is a good idea to keep the accessories simple. Maybe just wear it with a fedora to give a boho look or a beret for a chic look.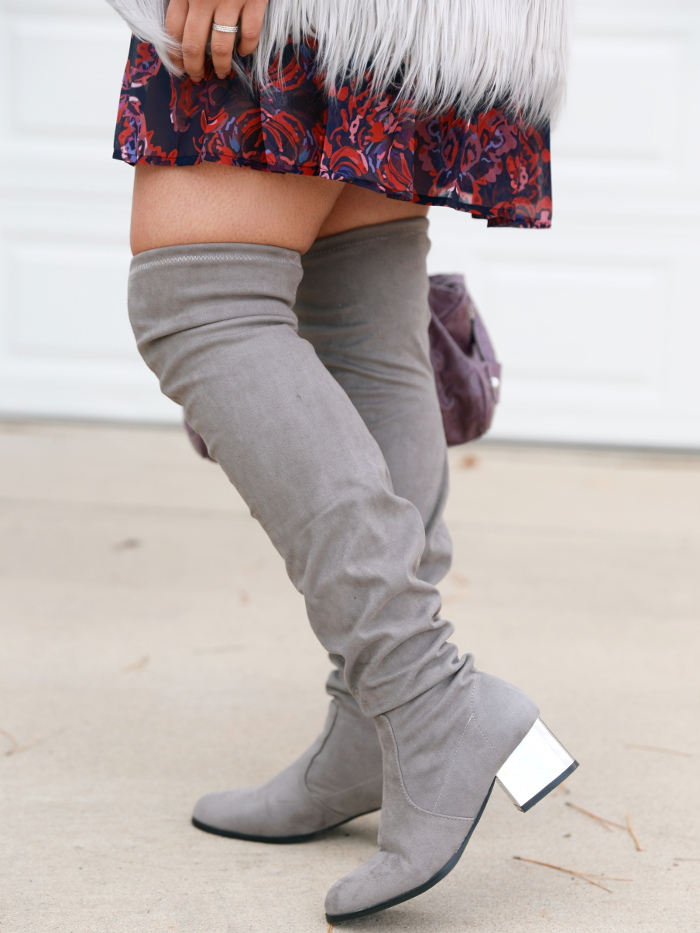 Hopefully this post helps to try a faux fur vest if you have been still trying.
If you have already worn it before then let me know how you love to style it!
Outfit Details