It was Father's Day, and I had not thought about what we would be doing. We did have a special pancake breakfast, but other than that, it was going on as any other usual day. Right then, I saw this post from Stacey @ Glued to My Crafts, and I knew immediately that I wanted to make one. It was such a cute and simple idea, but just perfect for the day.
Gather the Supplies
I had most of the supplies from my previous craft work, but had to buy the paint and brushes. So I sneaked out to buy some paint for this last-minute project, while Vinay was out running his errands. I used construction paper, but you could also do it on a canvas. Here are the supplies I used
1. Crayola Washable Kid's Paint
2. Crayola Artist Brushes
3. Construction Paper
4. Mod Podge
5. Foam brush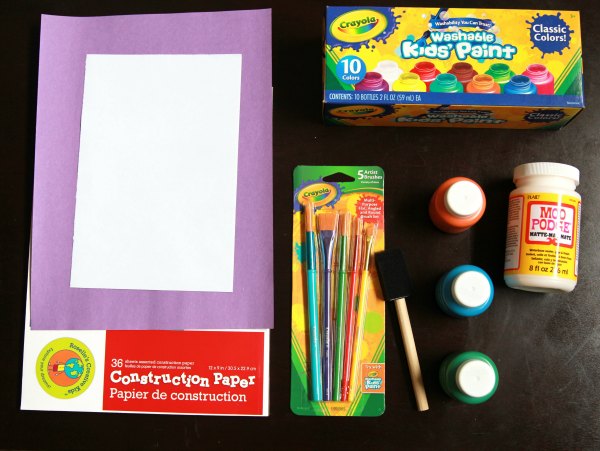 Paint It
To tell you the truth, I probably have not painted in 15 years (Why now? Well things change when you have a little baby!). So this was one easy and fun project to warm up with. Here are the simple steps:
To start with, I cut the white Construction Paper in half, width-wise.
I took the blue color and added a bit of white to lighten it. Then just rolled my brush making waves with blue on the paper.
Took out some green paint and made some water plants using the flat brush.
Then came the fun part! I had to make a fish from Akira's hand print. Now try doing that with 1.5 yrs old kid, who just woke up from her sleep! But once I dipped her hands in the orange paint, she was all set to play with colors. That is where my mom had to help me out. She held her tight, while I took her hand-print on paper. After that I washed her hands thoroughly to remove all the paint from her hands.
Then I just used some red color to make the mouth of the fish.
Used some leftover green paint to make the eye of the fish.
This is how the painting looked at this point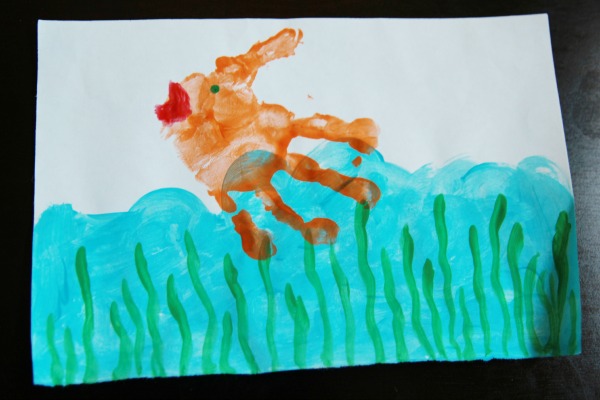 Frame It
Once the paint was all done and dried out, it was time to frame it! I used the purple color paper to make a frame for our painting. Since I did not have any craft glue with me, I used some thinned down Mod-Podge using the foam brush, which worked just as well.
Finish It
Then it was time to finish it with words "I'm Hooked On Papa" and artist's signature "Akira 2015". 😉
You can also use paint or stickers. I did not have black paint, so I used the sketch pens instead. You could also say "Happy Father's Day" or "Daddy's Best Catch". Or how about making it as a birthday gift – "Happy Birthday Daddy!".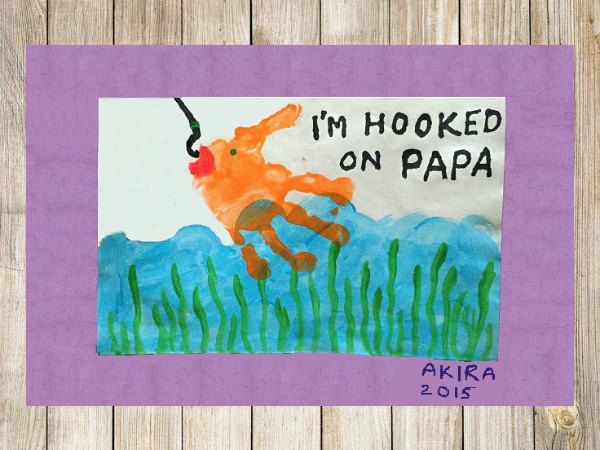 Enjoy the Father's Day!
Vinay came back home that day to be happily surprised with this cute little painting. I tried to capture their smiles, but Akira was not happy that we took her away from her mischiefs. Don't go by the picture, she is absolutely hooked on to her papa 🙂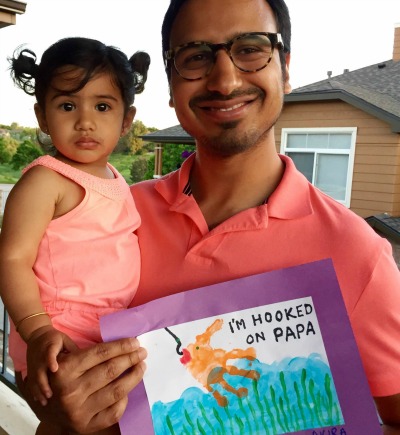 How did you you celebrate this Father's Day?